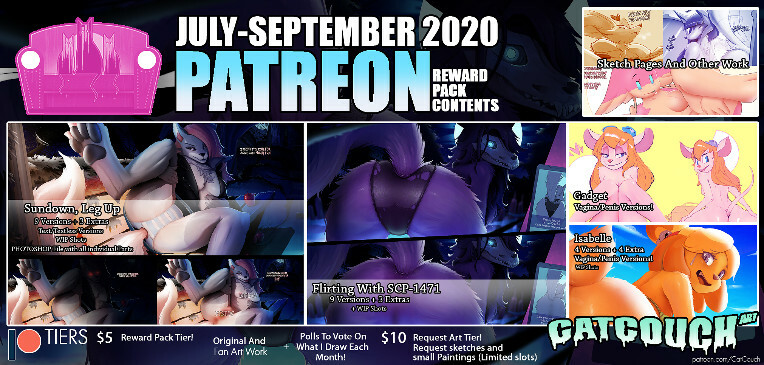 My Patreon Reward Pack for JULY - SEPTEMBER 2020!
Also available on my Gumroad Store!
(Link to my Twitter with full size image)
-------------------------------
Reward Pack contents:
Flirting with SCP-1471:
SCP-1471 (MalO) trying to flirt. She's very good at it.
9 versions + extras
Leg Up, Sun Down:
Exhibitionist wolf girl on a park bench.
9 versions + extras
Photoshop file with all individual parts on layers
Plush Quality Control:
Plush come to life! Complete with "modifications".
2 Versions + Turnaround
Isabelle "Swimming Belle":
Secretary Doggo goes swimming!
4 Versions + 4 Extra
Gadget:
Everyone's favorite mouse from that rescue show~
2 Versions
Delphox Sketch Page
Miriam's Mirror Portal 1-Page Comic
A Bunch Of Weekly Annie Sketches And Automatic Drawings!
Also includes full resolution art of other public art with some extra versions and WIP shots!
-------------------------------
Thank you all so much for the support! I feel I am really improving my art! :3